Neil Auricchio, Multi-Millionaire, Venture Capitalist, Consultant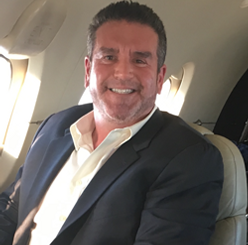 Originally from New Jersey, now in Florida, Neil Auricchio has made millions of dollars as a real estate investor, venture capitalist and entrepreneur. Moreover, Mr. Auricchio is a TV icon and has travelled the nation conducting live seminars. The "Maker of Millionaires," Neil Auricchio has been a leader in the real estate investment field starting in 1985.  In fact, he has personally conducted thousands of real estate investment transactions. Amazingly, at the pinnacle of his career, Auricchio had his hand on over 100 real estate closings per month.
Early on, Auricchio travelled the US conducting group and one-on-one training on real estate investing and business growth in a multitude of industries. Notably, Auricchio was on television nationwide multiple times on a weekly basis for several years, assisting thousands of business people realize their dreams.  In addition, Auricchio has developed a proven methodology for business success. This includes a combination of goal setting, proper state of mind, and action.
Neil Auricchio Consulting
Now, he works with selected people and on projects in a variety of arenas. This includes real estate investing, manufacturing and buying and selling of business equipment. Neil Auricchio is a one-man Shark Tank reality TV show. He looks for individuals with whom to line up his expert experience to take them to then next level. He has an intense passion to help others realize their dreams in life.
Neil Auricchio is a cancer survivor. Out of the blue, in 2011 the doctors diagnosed him with Stage T4A cancer. Much like the tenacity he exhibits in his business career, he faced the diagnosis and recovery with a similar mindset and relentless drive to overcome. Just like he has over and over again in his professional life, Auricchio has overcome this challenge and is now cancer free. As a result, this life-altering event piqued his interest in philanthropic pursuits and regularly helps those who face challenging circumstances in life.
Neil Auricchio Business Consulting
Auricchio offers business consulting sessions to both budding and experience entrepreneurs who want to reach new heights. Please call the number above or complete the enquiry form on this page for more information.
Testimonial from the CEO of Lawyers Limited
In 1992, I saw Neil Auricchio doing a public speaking event at a large business conference in Seattle Washington. It was three-day a weekend seminar where one successful businessman after another got up on the stage in front of an audience of 2000 people giving insights to their success and selling their training courses. One thing that stood out to me is that when Neil Auricchio took the stage in his mid 20s he said two things:
First, I am the youngest man that will be on this stage this weekend.
Second, I am the wealthiest man who will be on this stage this weekend.
Then, in 1994 I hired business millionaire Neil Auricchio to help improve my business. Since that time my team and I have built the largest asset protection and international company formation firm in the nation. Neil Auricchio's expert guidance included specific goal setting, proper mental attitude, and regular milestones to check your progress. Now Neil has offered his services to our clients.
One-On-One Millionaire Advice
Six one-on-one telephone coaching sessions, one per week for the next six weeks, that promise to change the course of your financial future. Keep in mind, this is not a group session. In fact, this is only you and only multi-millionaire Neil Auricchio tailoring your better future. Neil will get into your head and make you the person you were meant to be…sending you on your way to financial freedom and maximizing your potential.
In fact, Neil is so sure that he can point you in the right direction that if you don't feel that you got 10 times the value in the first 15 minutes of the conversation, tell him an he will give you your money back immediately. So, call us right now at +1-888-234-4949 to get more information about this life changing experience helped me to become the CEO of the latest company in my industry. I'm confident that Neil can help you make a massive leap to the next financial level in your life. Thank you.